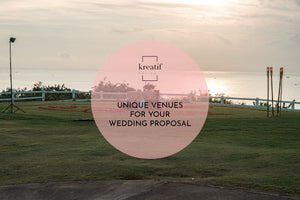 Your unique dream proposal in Bali according to the newest trends
Friendly guests, a beautiful dress, delicious cake and a good looking husband: all the ingredients for your special day. But first of all, there will be a proposal. A moment of putting your love into words, enjoy the moment together and of course popping the desired question. Going on your knees for the love of your life is a big step so it will take a little bit of preparation. In this blog, we'll walk you through the most recent proposal trends so you will have an unforgettable, magical experience in Bali.
Worthy engagement locations
The location of the engagement is perhaps the most crucial factor. Main reason is because it determines the atmosphere of the occasion. Whether you like to give your proposal a romantic or just a casual look, the location says it all.
 During covid times it was difficult to pop the crucial question somewhere else than at home. Now that live has gone back to normal, couples like to have their engagement outdoors. The most beautiful locations will be picked by the couples and Bali will be the ideal place for the most Instagram worthy venues. With its vast rice fields, bohemian beaches, and stunning sunrises, Bali is not going to disappoint. Kreatif by design can help you with setting up the perfect location in Bali. We can visualize your wishes and turn them to into reality. Take for example our special custom-dinner overlooking at the Uluwatu sunset.
Better together
Your engagement ring is a forever thing and without a doubt the most precious jewellery you will ever own. You want it to be flawless, one-of-a-kind, and most importantly make you feel good when you look at it. Because of that, people wish to participate in their ring's design. That's why it's getting more common to go ring shopping together. The idea of your loved one designing a ring for the big day is absolutely obsolete. Even if you might be concerned that discussing about the ring design will take away the surprise element of your engagement, it will still be a special occasion where unexpected things can still happen.
Increasing creativity and hidden photography
In Bali we love some good traditional customs. And even while the custom of making a proposal on one knee will always exist, people are becoming more creative. Their proposals frequently include a personal touch. Think of a trip down memory lane or some personalized details like the favourite flowers of your loved one. People want to emphasis on the unique, special and memorable moment and think of the small details. You can even have some Balinese dancers to amuse your evening. By visualising the wants en needs of the client and doing everything in its power to make them reality, kreatif by design can precisely adapt to this trend. We've even set up a 4-courses dinner in the middle of the New Kuta golf. Many people will take their loved one to a specific location that holds great memories for them. Once more, the engagement will remain a memorable experience.  
To make sure that this moment is well captured, most couples hire an photographer for the engagement. Besides the fact that you want to remember this moment forever, it is also a great way to share the big news with your friends and family. It's a genuine moment where your significant other is unprepared and completely surprised. There are probably a lot of emotions during the moment that you want to capture. Because the fact that the photographer is hidden, you will get the most rare pictures and video's with the Balinese views as background.
The bigger is not always the better
Nowadays, there is a lot of pressure on the proposals. Because of social media, you will see the most exuberant, luxury and beautiful proposals which requires a lot of preparation. Besides the fact that it cost a lot of effort and money, people sometimes forget about what the venue is about: the proposal. It needs to be an unique and memorable moment where the focus is on the love between two people. We think a moment like this is mainly about the genuineness and authentic feels during the proposal. Kreatif by design is here to relieve you of the strain, and we'll make sure it will be an experience you won't soon forget.
The new way of proposals
We live in a modern time where everything is possible. Especially in Bali we like we like to deviate from the normal. With several progressive movements in the society, uncommon things become more normal. A collaborative proposal is becoming increasingly typical as designing the rings together becomes more widespread. Because it's a journey that the couple make together, they frequently prefer to work as a team; also when it comes to the big proposal. Especially for same-sex and heterosexual couples. Sometimes the two make their proposals soon after one another. It is considerably more typical, particularly among the younger age.
So just use your imagination to create the moment you've been dreaming about. You get to choose if it will be Instagram-worthy or not, whether it will be with other people or just the two of you and if it's going to be with or without a photographer. Just let us know, and we'll help you to come up with the perfect proposal.
And if you have any questions, please don't hesitate to contact us; we'll be there for you every stap of the way!
---