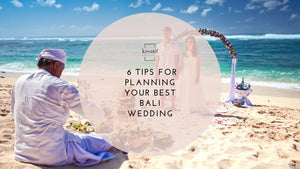 After Covid 19, here are 6 tips for planning your best Bali wedding
We can all agree that planning a wedding, especially a destination wedding, has been a pretty frustrating and difficult year (due to limited international travel and the unknown). Not to mention the threat of a global pandemic. Here are 6 tips for planning a wedding in Bali:
Hire a helpful Bali wedding planner.
It's not easy to plan a wedding during a pandemic, however the right wedding planner can make all the difference. If you can't visit the venue in person, your wedding planner can organize for a virtual site tour, and if a food tasting or makeup trial isn't feasible, don't worry; they'll advise trustworthy alternatives.
A helpful wedding planner will also allow you to be more flexible with your bookings. They'll communicate with each vendor to make a preliminary booking, push back your payment deadline, or negotiate a lower deposit to secure your wedding date. If your wedding date has to be rescheduled due to the coronavirus outbreak and travel restrictions, they will make every effort to accommodate you.
Choose Bali venues and sellers who follow a strict health and safety protocol.
Consult your wedding planner and learn about the health and safety policies of your venue and suppliers. As a well-known destination for international weddings, the majority of Bali wedding venues provide excellent service and, more importantly, pay close attention to health and safety practices, particularly as the virus spreads.
Before the event, your villa or hotel will be disinfected on a regular basis, as will all tables, chairs, the dance floor, and other props. Hand sanitizers and temperature checks will be provided by your wedding planner, allowing you to fully enjoy your special day while maintaining a high level of safety.
Do not cancel; instead, postpone.
Take a deep breath in and out. Consider postponing rather than canceling your wedding if it falls during a quarantine period. We recognize that this is a stressful situation, unlike any we've ever encountered, but we also recognize that all of our difficulties are temporary. Borders will be reopened when the time is right. We will be able to celebrate once more, and the wait will be well worth it.
Consider a Bali wedding that is smaller and more personal.
If you're concerned but don't want to postpone your wedding too long, a smaller wedding might be worth considering. A smaller number of guests is easier to handle and allows you to communicate with each one individually. Make a guest list that includes your immediate family and friends. An intimate wedding can equal true quality time, so don't worry if it's a smaller affair; it won't be any less special.
It may be difficult to narrow down your guest list, but in these days of restricted social gatherings, we are confident that they will understand. To show those who couldn't attend your wedding that they are important, host a zoom or hangout party for them. A follow-up reception (or first anniversary party!) for everyone the following year is also a great idea that you should consider.
Make changes in a unique way.
Start by looking through your floor plans after you've managed your guest list to see if they can be tweaked to comply with the covid-19 health and safety protocol. Think of having pre-packaged meals or set menus. If you prefer a buffet, discuss with your wedding planner about having guests line up alternately to avoid crowding.
And if you have any questions, please don't hesitate to contact us; we'll be there for you every step of the way!
---